HIGHLIGHTS
SITE MAP
WICI HISTORICAL HIGHLIGHTS
2015
Dictionary.com updates its Definition page of PAGAN to include non-christian word choices,
after WICI lodges a complaint.
---
2014
The NEW BEGINNINGS PAGAN RECOVERY Support program begins April, 2014.
---
2013
The WEAVING TRADITIONS JOURNAL is published June, 2013.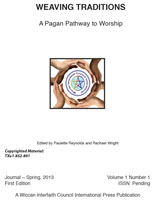 ---
2012
Our Facebook page launches :

---
2011
The WICI SPIRITUAL SERVICE DATABASE begins.
---
2010
The International Office relocates to Austin, Texas.
---
2009
The WICI-Illiana Chapter creates CELEBRATING WICCAN TRADITIONS, Commemorative DVD,
honoring the Pagan Way
tradition, as gifts for our Spring Luncheon guests.
The LINDA BATWINSKI MEMORIAL PROJECT donates $180.00 to the Toys for Tots in her memory.
---
2008
WICI hosts the MIDSUMMER WICCAN EXPO : The Face of Wiccan Clergy * Coven * Community.
---
2007
The PERSEPHONE'S HANDS PRISON OUTREACH worked with the Indiana D.O.C. Religious Services
to encourage the Executive Directive #07-71, approving the pentagram/pentacle as a "medallion to be worn
or carried", by Wiccan, Witch, and Pagan inmates (approved November 29, 2007).
The PROJECT WE CARE 2007-2009 collected and distributed over 500 lbs. of donated boxed goods
to our Pagan military and prison outreach support activities.
Our Annual Spring Luncheon hosts Guest Speaker Stanley Modrzyk, noted author and Wiccan High Priest.
---
2006
The WICI begins co-sponsoring the Chicago Pagan Pride 2006-2009.
The Wiccan Interfaith Council International (WICI) is created by Paulette Reynolds and Lisa Ledger, January 2006.
---
Home ~ Membership ~ How Can I Help? ~ Contact Us
Copyright, 2006 - 2017 * Wiccan Interfaith Council International - New Beginnings Pagan Recovery. Incorporated as a 501 (c)(3)non-profit religious,
educational, and charitable organization, on November 1, 2007, and in the state of Indiana and Texas, USA. Intent to publish, post, edit, share or copy
any information, graphics, and/or WICI-New Beginnings logos from the Wiccan Interfaith Council International website in ANY format (printed forms,
digital copy/transfer, emails, text, or Tweet) is strictly forbidden. Any attempt to forward and/or use (by any group, organization, or individual) is
considered misleading, unethical, and is not condoned by the Wiccan Interfaith Council. Permission to copy and distribute must be obtained in writing
from the WICI Council Board of Elders.